written by on Wednesday, December 18, 2013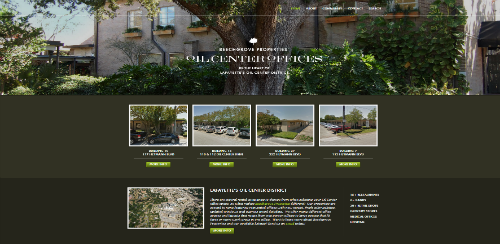 Our latest project was designing, writing and developing a website for Beechgrove Properties. Beechgrove Properties leases professional office spaces in The Oil Center in the heart of Lafayette, Louisiana, and Usable Creative's office just so happens to be a Beechgrove property in The Oil Center. We had a lot of fun learning more about the area we call home.

The Project
The Oil Center is a hub for businesses, restaurants and shopping; however, many of the buildings here are outdated and in desperate need of a little TLC. Beecghrove Properties stands out because of its beautifully decorated and newly renovated office spaces. For this website, we wanted to show not only the advantages of leasing from Beechgrove Properties, but we aspired to capture the character, history, beauty and convenience of The Oil Center. We accomplished this through descriptive and educational
content
as well as a stunning
design
and local, original pictures.
As the project manager and writer on this project, I thoroughly enjoyed researching and learning about the history of The Oil Center. Plus, I had a perfect excuse to take a walk on a beautiful day capturing stunning pictures of The Oil Center's unique scenery.
What Matters
What's extremely useful about this website is the tenant directory. We
created
the directory so that tenants can learn who else is in the area, promoting conversation and gaining attention to Beechgrove tenants and their services. We made the directory easy to update so that Beechgrove can add in the tenant's name, website, social media and more.
Its your turn
Need a new website that's as beautiful and functional as Beechgrove's?
Usable Creative
can help! We are your full-service web design and development company located, where else, in The Oil Center in Lafayette, Louisiana.
Contact us
today and let's start a conversation about your website.