Mobile Websites
Customized Mobile Websites from Usable Creative
Do you ever pull up a website on your desktop or laptop and fall in love? (Happens to us all the time). The website is beautiful, informative, and exactly what you were looking for. You leave the office for lunch with friends, and you launch the website on your phone to share the jewel only to find a jumbled mess of text and pictures.
What you just encountered was a non-responsive website, a website that does not respond to the width of the browser.

Mobile Friendly vs. Mobile Website
At Usable Creative, we build websites so that they shrink automatically to fit the dimensions on your iPhone, Android, tablet, or any device. We're not trying to start an apple vs. droid battle, our websites work equally great on all devices. Usable Creative also specializes in creating custom mobile websites.
What's the difference you ask?
A mobile-friendly site is simply a shrunken down version of your regular site, see our own website below on the left. An actual mobile website is a completely different design that is mindfully created with larger text, limited graphics, and most importantly: it's thumb-friendly. See the mobile website we designed for Lodestar International below on the right. With a mobile website, site viewers will see your regular website on a desktop computer or laptop, but on a phone or tablet, they will see the separate mobile site.
Bottom line: your company's website has got to look great on your desk and on the go.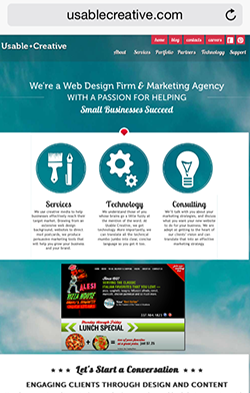 Mobile Websites Drive Your Online Business
According to a recent study, optimizing your website for mobile access can lead to an up to 85% increase in customer engagement and can increase your sales by an average 51%. With the power of Business Catalyst, your mobile website will help you grow your brand and build meaningful relationships with your audience.
Now, let's start a conversation about your mobile website.