written by Shannon Lynd on Friday, December 11, 2015
A new website just in time for the holidays for our friends at Southern States Land & Timber! We got to know the Southern States guys after working on their partner's site, J.M. Burguieres Co., LTD.
As partner companies, Southern States' realized last year that their outdated website looked lackluster next to JMB's new site, so they gave us a buzz. We wanted to create a site that was complimentary to JMB, yet was unique to the qualities of Southern States.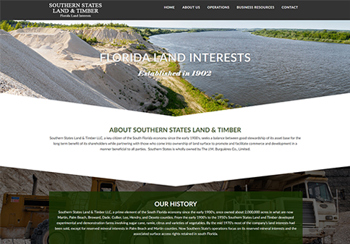 Through Adobe Business Catalyst's web apps, our team created easily editable applications so that Southern States' can easily update their interactive website content, like their History page.
Check out the site and let us know what you think by commenting below. Usable Creative loves helping businesses succeed through making an impact on the web.
Do you ever just want someone to handle it?
That's what we're here for. Don't want to talk tech? Not a problem. Usable Creative will get to know your company, your services and your goals to build a website that works for you! Each project begins with a conversation, let's get started with yours today!