written by Shannon Lynd on Monday, March 21, 2016
Usable Creative is excited to announce the launch of a new website for our friends at Mack Energy Company. Mack is based out of both Duncan, Oklahoma and Lafayette, Louisiana. Mack's new website is unrecognizable from their previous site. Just to prove it, we included screenshots below. :)
BEFORE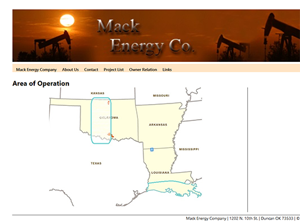 AFTER


From the beginning of the project, we noticed the bright orange featured in Mack's logo. We took that color to be the theme throughout the site. From upstream to midstream, blue tones are used across the spectrum in the oil and gas industry. We had fun working with their distinct orange, they do say orange inspires creativity!
Through our platform, Adobe Business Catalyst, we built a usable and easy-to-edit website for the team at Mack. They are constantly updating and adding new projects, and they were looking for an easy way to display project details on their website. We built custom Web Apps that allows Mack to pop in new project details and PDFs in a snap, so shareholders and potential investors can easily see what Mack has got to offer!
Check out the website and let us know what you think by commenting below!
Is Your Website Ready for a Makeover?
We can help with that, and more! Usable Creative specializes in helping businesses succeed through making an impact on the web. We also offer marketing services that range from social media management to business card design. Each project begins with a conversation, let's start yours today!