written by Shannon Lynd on Thursday, August 27, 2015
Congrats to Ace Specialties and the launch of their new website! Ace Specialties is a 100% woman-owned business that has served the oil and gas industry with work wear, safety gear and promotional products since 2007.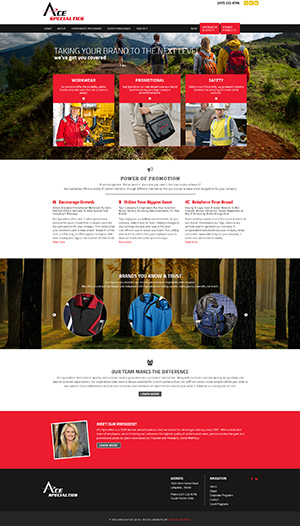 Christl Mahfouz, owner of Ace Specialties, came to Usable Creative with a need for an informative, and user-friendly website. She felt that her previous website was hard to navigate and lacked content, and we were happy to help.
Our team started from scratch finding photos from her most popular vendors to showcase the products and unique services Ace Specialties offers. We also thought about what users were looking for when they visited her site.
We made the decision to separate her shopping links from the rest of the menu to make it easy for users to see the difference between her exterior shopping sites and the rest of her content driven website. We clearly displayed Ace's services, brands, and special programs in the main menu.
Is your website lackluster?
Let us help! Usable Creative has a passion for helping businesses succeed through making an impact on the web.
We offer website design, development and copywriting to provide the complete package you need for your company's new website. Each project starts with a conversation, let's get started with yours today!