written by Shannon Lynd on Tuesday, April 28, 2015
Congratulations to Target Completions and their new, live website! We are happy to help our clients in the oil and gas industry make an impact on the web!
Print + Web = A Perfect Combo
This was a double project for Usable Creative, it included the website design, copywriting and development, but also print design.
Target Completions came to us with a need for a major tool catalog, and we were happy help. Once the project was complete we were able to provide editable Adobe InDesign spec sheets that they can use to highlight their tools on the web, individual spec sheets they can print, or they can print the entire spec sheet package to use as a catalog.
Partnered with the print work, this website makes for an informative product for the team at Target Completions to sell their fracking, service and completion tools!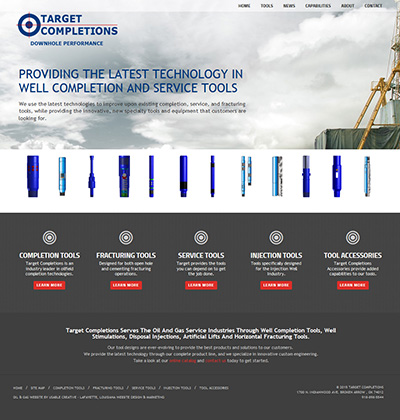 Let's Get Started
Are you looking for business solutions to bring your business into the 21st century? Usable Creative is here to help.
Our team has a passion for helping small businesses succeed by making an impact on the web.
Each project begins with a conversation, let's start yours today!