written by Shannon Lynd on Monday, February 08, 2016
Congrats to our friends at Simien & Miniex Attorneys at Law on the launch of their new website! We so enjoyed working with you and helping bring your website up to 2016!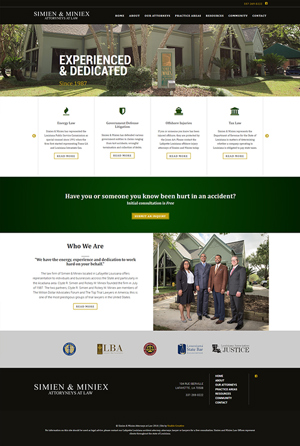 The team at Simien & Miniex is comprised of caring, professional and accomplished attorneys, and they were looking for a website that reflected their professionalism and achievements. We managed just that in their new Adobe Business Catalyst website. We created easy-to-edit web apps for the team to add and edit information including Notable Cases, Frequently Asked Questions and General Practice Areas.
Photos Make the Difference
The team also benefited from new photography from our pal Travis at Zoom Photo Studio in Lafayette. Check out the website and tell us what you think by commenting below!
Is your website in need of an overhaul?
Let us help! Usable Creative offers innovative web design and development in Lafayette, Louisiana! Our team has a passion for helping business succeed through making an impact on the web. Each project begins with a conversation, give us a buzz today to get started.