written by on Monday, November 17, 2014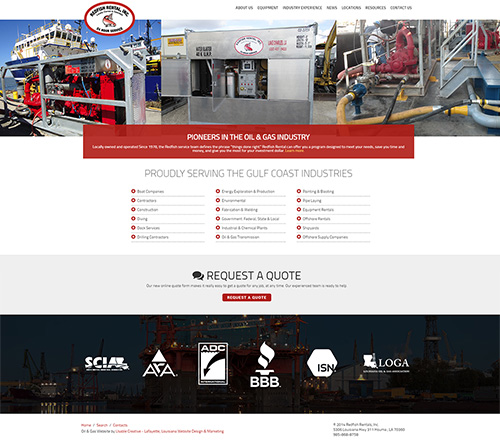 Another new, live website for Usable Creative! This project was for Redfish Rentals, an equipment rentals company based out of Houma, LA with locations stretching from Belle Chasse, LA to Cuero, TX.
If you're familiar with Usable Creative, you've heard us rave about Adobe Business Catalyst's customizable Web Apps. Our love for Web Apps may have reached a new high because the Web App we created for Redfish Rental's Equipment Rate Guide is one of the best!
Adobe Business Catalyst is a content management system that allows us to create easy-to-edit form-like programs for our customers. Redfish Rentals can now easily make edits to their equipment guide, by adding new tools and editing existing tools.
We also created an original Google Map to highlight each of Redfish's locations across the Gulf Coast. Check out the site, and follow Usable Creative on Facebook to stay up to date on all of our new projects!
It's Your Turn
Ready to have a usable website like Redfish Rentals? Give us a call! Usable Creative specializes in helping small businesses make an impact on the web. Each project begins with a conversation, let's get started with yours today!