written by on Tuesday, January 28, 2014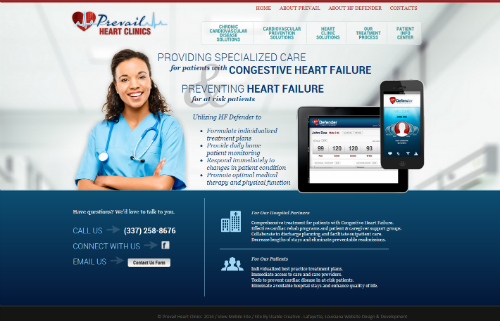 Usable Creative unveiled another new site this week. This custom
website design
and development project was for Prevail Heart Clinic, located in Lafayette, Louisiana. Prevail Heart Clinic partners with hospitals, physicians, and outpatient care providers to ensure the highest quality care for patients suffering from chronic cardiovascular diseases. The main goal of this website is to inform patients and caregivers about cardiovascular health, Prevail's services, and how to become a Prevail Heart Clinic patient. We accomplished this goal by creating a clean and fresh design that displays an enlightening Patient Info Center that provides educational health resources for website visitors.
It's Your Turn
Does your website need a total makeover?
Usable Creative
, located in Lafayette, Louisiana, is a full service web design firm with a passion for helping small businesses succeed. Let's start a
conversation
today about your next project.