written by Shannon Lynd on Wednesday, August 26, 2015
Usable Creative is excited to announce the launch of Oil Land Services' new website! We really enjoyed getting to know the team at Oil Land Services and getting their new website and business cards ready for NAPE.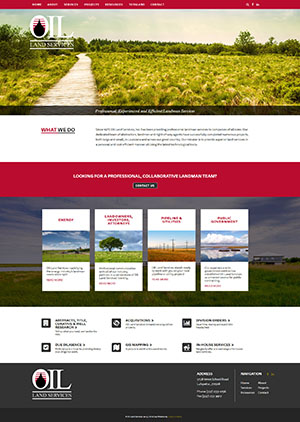 Oil Land Services is a professional landman service company, but they provide services to a variety of industries – not just oil and gas. They work with landowners, utility companies and government entities.
A big focus for this website was photography. We wanted to provide images that felt like Louisiana. Images that conveyed Oil Land Services' message – professional, experienced, and efficient landman services.
We utilized Adobe Business Catalyst's custom web apps throughout the site – from the photography to the resources links to the services pages. Don't know about Business Catalysts web apps?
You're missing out! Give us a call and we will be happy to explain our custom, easy to edit website platform.
It's Your Turn
Is your oil and gas website ready for LAGCOE? Let Usable Creative help! We have a passion for helping businesses succeed through making an impact on the web. Each project begins with a conversation, let's start yours today.