written by on Friday, July 11, 2014
Congrats to Magellan Construction and the launch of their new website! We love the fresh design and usability of this site. Our team really enjoyed working on this project, and learned a great deal about the construction industry. We may have an office computer "The Beast" but this team still picks web function over commercial construction.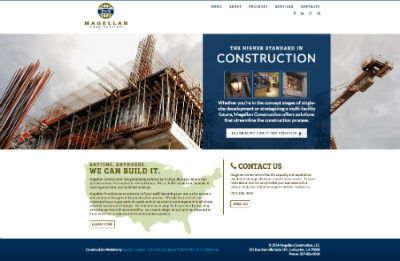 Project Portfolio
Magellan Construction is a commercial construction company that specializes in new construction, tenant-build-outs and remodeling. We wanted to create an outlet for Magellan to share its projects with current and future customers.
Using the Adobe Business Catalyst content management system, we created a Project Portfolio Web App so Magellan can easily edit and add new projects! The Web App works like a form. Magellan simply plugs in the pictures and specs, click update, and the information is added to the website. It's really that easy!
It's your turn!
Do you need a easy-to-manage website that showcases your business? Give us a call! Usable Creative has a passion for helping small businesses succeed through making an impact on the web. Each project begins with a conversation, let's start yours today!