written by Shannon Lynd on Monday, January 25, 2016
Congrats to Louisiana Concrete Pumpers and the launch of their new website! We are happy to see local, Acadian-owned businesses succeed!
What really makes this site stand out is the excellent project photography. If you live in South Louisiana, chances are you've seen Louisiana Concrete Pumper trucks around town. In Lafayette alone we've seen them in our own residential neighborhoods, on roadways and laying the concrete of our new Whole Foods Grocery Store!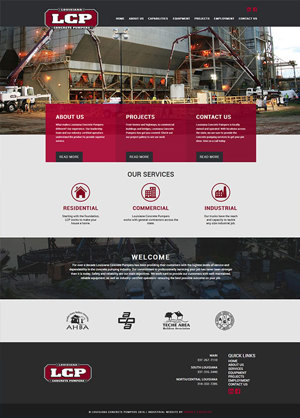 Through this site, we wanted to give the owner, Joel Angelle, plenty of functionality to display his trucks and each of their unique specifications.
Through Adobe Business Catalyst custom web apps, we were able to design and implement an equipment web app that gives detailed specs and pictures on each of truck.
We were also able to create contact forms so that potential customers can easily request a quote, or reach a sales representative with just a few clicks.
Let's get started!
At Usable Creative, we want your website to work for YOU! Gone are the days of tri-fold brochures, you're website should be your optimal selling tool, and we're happy to help you get it there. We offer web design, development and copywriting in Lafayette, Louisiana. Each project begins with a conversation, contact us today to get started!