written by Shannon Lynd on Thursday, February 12, 2015
Usable Creative is excited to announce the new website for Liggio Insurance Agency! We are excited to showcase this beautiful design for our local Lafayette, Louisiana insurance company.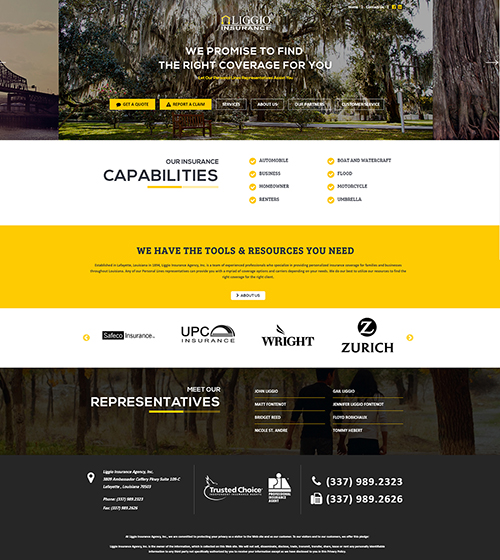 Before we started this project, Liggio Insurance had a 2 page website: Home & About Us. We see this a lot in our industry, local businesses are consumed with the everyday operations of running a business, and let their website get stuck in 2005.
We're here to help. Our team was happy to revamp Liggio Insurance's web presence and give them a usable and creative website.
Check out the list of partners on their site. We wanted to provide Liggio's customers with easy functionality and quick links to pay bills or report claims. We accomplished this by creating unique rollover features to quickly provide the information that customers need.
Check out the website and let us know what you think by commenting below!
Jealous?
Is your website ready for 2015? Let Usable Creative help! We specialize in helping local businesses make an impact on the web. Contact us today to get started, we look forward to hearing from you!