written by on Wednesday, November 06, 2013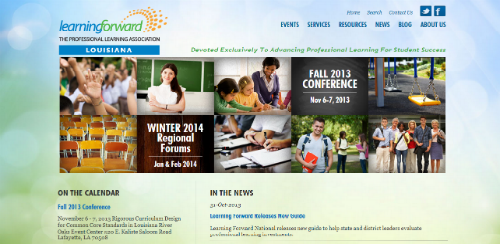 Usable Creative launched yet another website this week! Learning Forward Louisiana went live today, just in time for their seasonal conference in Lafayette, Louisiana.
The Experience
Holly Howat, executive director of Learning Forward Louisiana came to us just a few weeks ago with a need for a website and a tight deadline. Through this project, we learned teachers are great customers. Holly was beyond organized, which really expedited our process. She gave us a document that included the entire content for her website, and we designed her custom site then simply filled it in with all the content she provided. We had her up and running in only three weeks!
The Design Focus
We designed a fresh look for the Learning Forward Louisiana site, incorporating the colors of Learning Forward logo. The site is very informative, full of many events, services, and resources for educators. We also designed a fun table on the homepage by creating a Web App in Adobe Business Catalyst. The table is easy to change, so Holly can effortlessly update the events, newsletters or pictures.
Are you running on a deadline?
Do you need a website to show off in only a few weeks? Contact us today, Usable Creative offers website design, development and copy writing and a variety of other services on a variety of timelines. Let's start a conversation about how we can help your company.