written by on Wednesday, October 30, 2013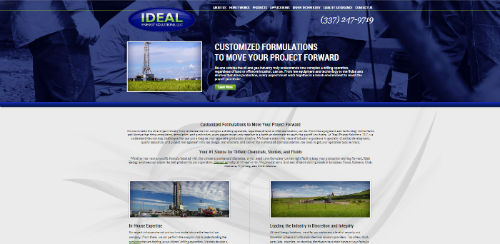 The Usable Creative team unveiled a new website this week for an oil field services company, Ideal Energy Solutions. Ideal Energy Solutions specializes in oilfield chemicals, slurries and fluids for various types of oilfield operations. They provide consulting, customized solutions and troubleshooting to get oilfield operations across the United States back on track. They came to us with a name, a logo, and a need for a functional and informative website. The Usable Creative team created a website just as customizable and efficient as the oil field services that Ideal Energy provides.
The Design Focus
We took some great oilfield photos and covered them with the distinguishing Ideal Energy blue and lime green detailing to create brand recognition. The background of each page is the oilfield photos, topped with very descriptive text explaining the complexity of their services.
Oilfield Content
My favorite aspect of the Ideal Energy Solutions site is how fresh the site appears even though it is filled with a truck load of content. The site is very clean and easy to navigate, and a visitor is not intimidated by the 13 pages of concentrated content. As a copywriter, it can be challenging to take dense, oilfield content and make it airy and easy to read, but with the calm blue design, the content appears light, fresh, and easily obtainable.

It is fair to say the Usable Creative team continued their oilfield knowledge through working with Ideal Energy Solutions on this project. We all enjoyed working with the Ideal Energy Solutions team start to finish, and we hope to continue working with them on future projects!
It's Your Turn
Are you jealous of Ideal Energy Solutions illuminating website? Usable Creative designs websites, mobile apps, business cards, and we provide an array of other services. Learn more about Usable Creative and how we can help your company by starting a conversation today.