written by on Monday, January 20, 2014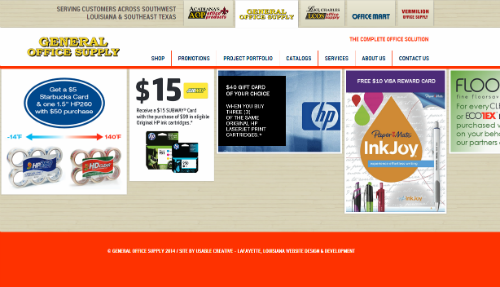 Usable Creative
presents another new, live site! This website design and development project was for General Office Supply. General Office Supply is actually composed of five different stores: Acadiana's Office Products, Lake Charles Office Supply, Office Mart, Vermilion Office Supply and General Office Supply. This website is really technologically remarkable because it's essentially 5 sites in one.
The Strategy
When General Office came to us, they had 5 completely different websites that did not communicate nor relate to one another. We were tasked with creating brand consistency between the five stores, while still keeping the character and uniqueness of each location. We created unique content and web pages for each store, but kept the stores accessible through all the different domains. This website features catalogs, promotions, merchandise service forms as well as the ability to shop online. Together the five stores and one main website follow along with General Office Supply's objective, to be the complete office solution.

Does your website need a makeover?
Usable Creative is a web design firm with a
passion
for helping small business succeed. We provide websites, print design,
copywriting
and an array of
services
. Let's start a
conversation
about your website needs and goals.