written by on Wednesday, September 03, 2014
Congrats to Compass Engineering & Consultants and the launch of their new website! We really enjoyed getting to know the entire Compass team while updating their online presence through a new website!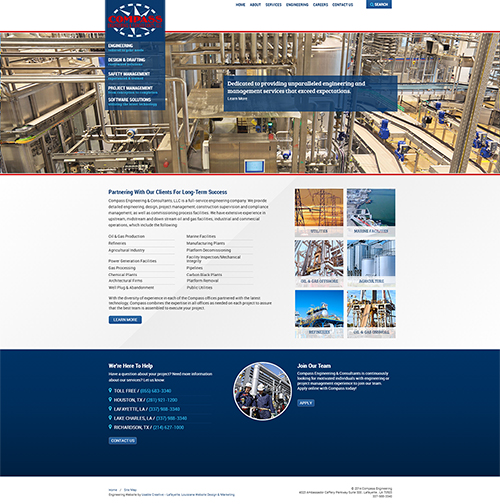 Unique Display
The engineers at Compass have a wide variety of experience and knowledge, and it was important to Compass to display all of their vast practices on the homepage. We did this two different ways, we list their experience in bullet point format, and then we also highlight their different industry experiences through photos and headlines.
For us, it's important to present
information
in a variety of ways to attract all site visitors while accommodating their different information gathering styles.
It's Your Turn
Are you ready to update your online presence with a new, custom website? Give us a call.
Usable Creative
has a passion for helping businesses succeed by making an impact on the web. Each project begins with a
conversation
, let's get started with yours today!