written by on Thursday, February 27, 2014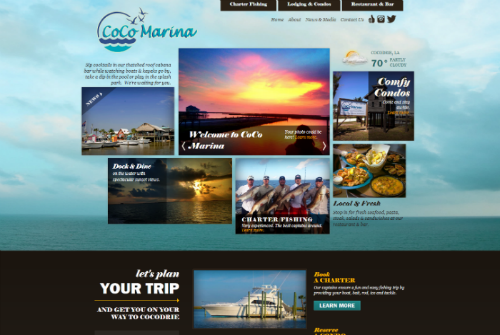 Congrats to
CoCo Marina
and the launch of their new website!! We had so much fun working on this project, and we can't wait to stay, fish, and more importantly eat at CoCo Marina this summer.

CoCo Marina, located in Cocodrie, Louisiana, is a full scale marina with exceptional lodging, experienced charter fishing captains, fabulous food and a cabana bar sure to make you feel like you are on a tropical island. We wanted to capture this emotion and give website visitors the exact same tropical feeling when they visit CoCo Marina's website!
Custom Design
What gives this website the island feel is the airy, beachy, and fun design. At Usable Creative, we create a custom design for each website we develop. You can be sure you receive a one-of-a-kind piece of art with a Usable Creative
website
or
print design
.
Stunning Photography
Because CoCo Marina is located on the Gulf of Mexico, with some of the most stunning views you'll find in Louisiana, they were able to provide us pictures of beautiful sunsets and successful fishing adventures. However, CoCo Marina also utilized photography sent from their own customers! To further encourage this photography, we created a unique form for CoCo Marina that allows website visitors to share photos directly with CoCo Marina. So after your relaxing stay at CoCo Marina you can share your photos with CoCo Marina, and they may feature your photos on their site!

Share, Tweet & Like!
CoCo Marina is lucky to have a great following on social media, particularly Facebook. We needed to utilize this following, so we added CoCo Marina's Facebook feed at the bottom of each page that features all of the folks that like CoCo Marina on Facebook. We also created icons for the homepage that lead directly to CoCo Marina's Twitter, Instagram and Facebook.

It's Your Turn
Ready to have a one-of-a-kind, original design like CoCo Marina. Usable Creative offers website design, mobile website design, print design, copywriting, and a variety of other
services
. Each project begins with a
conversation
. Let's start yours today.