written by on Tuesday, May 20, 2014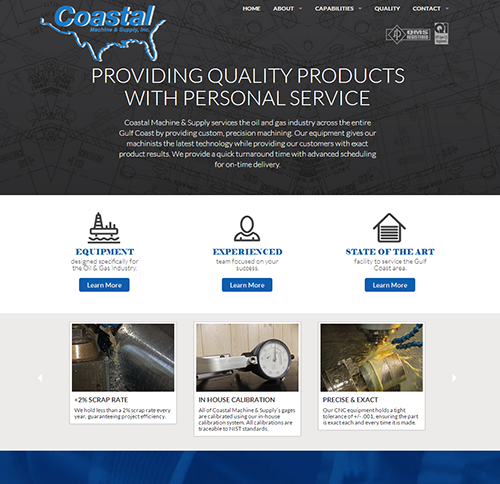 Congrats to
Coastal Machine Supply
and the launch of their new website! This site features a lot of new, up-and-coming techniques, and we're extremely satisfied at how the project turned out. The design, the functionality and implementation of this website is different from anything we've done before.
Modern Websites for Modern Companies
One of my favorite design qualities within this site is the drawing sketch overlay on the top banner of the homepage, but my ultimate favorite thing about this website is the wide, super-awesome Google Map on the contact page. Just one simple change, like creating a custom map through Google, can give a site such an upgraded and modern feel!
Your Concerns = Our Priorities
It was important to Coastal Machine & Supply that we feature their certifications throughout the site. We accomplished this by adding their certification logos on the header of the homepage, as well as the footer of every page throughout the site. We also linked the certification logos to the actual API and QMS certificates.
Maybe it's the
industry
we're a part of, or maybe it's our inner drive (more of the latter) but Usable Creative is always striving to do the coolest, useful and newest techniques for our customers. Check back in next week to see what we do next!
It's Your Turn!
Ready to join our
conversation
? Usable Creative is a web design and marketing firm with a passion for helping small business succeed. We design print work,
websites
and mobile websites. Let's get started on your next project today!