written by on Monday, December 30, 2013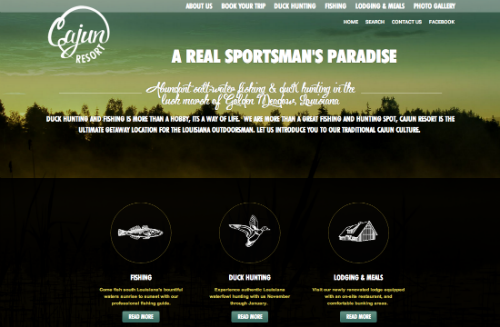 The team at
Usable Creative
unveiled a new website this week for Cajun Resort of Louisiana. Now in case you aren't familiar with Usable Creative, we are a
team
of self-sufficient and tenacious women, none of which have ever experienced duck hunting or kayak fishing. However, after thorough research and a lesson or two on salt-water fish, we are proud of our website design and content created for
Cajun Resort of Louisiana
.
The Project
We had a short timeline for this project, and it came together quickly and easily. From start date to live date, this project only took four weeks to complete. Shawn Olivier, the owner of Cajun Resort was very helpful, giving us tons of pictures and information about the resort. I had the pleasure of writing content for the site, which came easy after seeing the fantastic pictures Shawn sent in. We were all inspired by the beautiful marsh sunset and pictures of fun and successful fishing trips.

Custom Content
Cajun Resort's website is stunningly beautiful and it clearly captures the idyllic setting of Golden Meadow of Louisiana; however, what really makes this site distinctive is it's functionality. We incorporated a unique Web App from Adobe Business Catalyst that gave us the ability to build out a
booking calendar
and form in order for website visitors to easily book their next trip to Cajun Resort. After all, that's the main goal of the site, to get people to visit this beautiful and unique hunting and fishing destination!
Jealous?
Ready to take your website to the next level? Usable Creative offers website design, development, copywriting and many more
services
. Contact us today and lets start a
conversation
about how we can help your website make a successful impact on the web.