written by Shannon Lynd on Thursday, June 18, 2015
Congrats to Danny Schnaars and the launch of Barrier Force's new website, just in time for hurricane season! Barrier Force provides patented flood protection. Check out their website and let us know what you think by commenting below!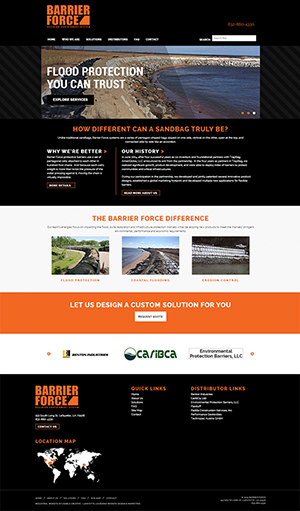 The Design
The design of this website is very unique in that it captures both the "dark & dramatic" as well as the "bright and white" design characteristics. We did this through color blocking black and white with Barrier Force's energetic orange, a perfect combination.
We also sprinkled Danny's on-site photography throughout the site to show the power of the Barrier Force product.
Jealous?
Then it's time to upgrade your website! Usable Creative is a web design and marketing firm with a passion for helping small businesses succeed by making an impact on the web.
We offer web design and development as well as marketing services like print design, social media management and content writing.
Each project begins with a conversation, let's start yours today!