written by Shannon Lynd on Tuesday, July 26, 2016
Congrats to our pal, Dr. David Barczyk and the launch of his new, live website: Barczyk Wellness Solutions.
Dr. Barczyk is a busy guy with four chiropractic offices, a biomechanics institute, a corporate wellness program, and he writes and speaks regularly on topics of health and wellness.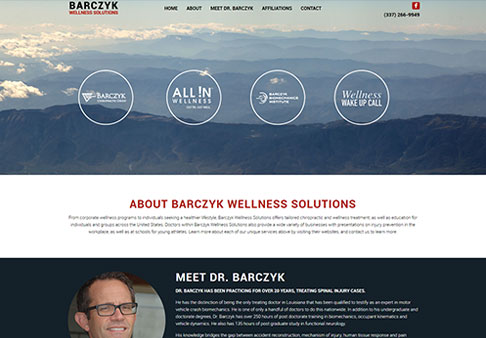 Complete Wellness Solutions
Dr. Barczyk came to Usable Creative looking for a website that encompassed all of his services and offerings in one place, showcasing his complete wellness solutions. To do this, we built a one-page micro-site for Barczyk Wellness Solutions with links out to his various service lines.
When in doubt, keep it simple
Although there are four different brands within Barczyk Wellness Solutions, we wanted to create a clean, minimal look so that website users could quickly find information. Check out the site and let us know what you think by commenting below.
It's Your Turn
Ready to get started with your new website? We're happy to help! At Usable Creative, each project begins with a conversation, drop us an email or give us a buzz today! We look forward to hearing from you and helping you make an impact on the web.