written by Shannon Lynd on Wednesday, September 09, 2015
Congrats to the McMath family and the launch of their new website for M&M Sales Company! Lauren McMath Harris & Mickal McMath have been customers with Usable Creative for several years with their company, Moore Haus Coffee. This year we began working with all the McMath's through their parent company M&M Sales Company.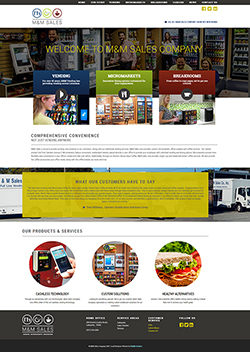 This project was a complete brand overhaul. We created a new logo, website and brand collateral (business cards, business envelopes and letterhead) for M&M Sales.
Comprehensive Convenience
M&M Sales Company has been in business for over 40 years here in Lafayette, Louisiana, but they are constantly revolutionizing their products to provide the newest and best technology for their customers. We wanted to showcase their brand as "comprehensive convenience, not just vending anymore" since the McMaths offer vending services, break room solutions and, their newest line, Avenue C micromarkets.
The McMaths also offer state-of-the-art cashless payment systems on their vending machines; they are providing the latest and greatest in vending and more, and they needed a website that reflects their innovation.
Through Adobe Business Catalyst we were able to create unique layouts and easy to edit Web Apps to display website content. Check out their new site and let us know what you think!
Is your company ready for a brand overhaul?
We're here to help. At Usable Creative, each project begins with a conversation. We'll discuss your brand objectives and help you make an impact on the web. Give us a call and let's get started!