Website Fish
What do you mean you don't have a website fish?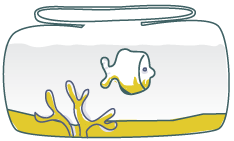 Superior Supervisor
Lamar isn't simply an office pet; he is our in-house supervisor, sitting high above all of us making sure our i's are dotted and our t's are crossed. For a purple beta, he's quite the perfectionist. You can rest assured that your website and marketing collateral are top-notch with this kind of creative management.
Start a Conver­sation
When he's not working, Lamar loves spitting bars and shooting hoops. What a guy.
Lamar isn't chatty, but we are! Want to find out how the Dovetail team can help your business? Let's start a conversation.